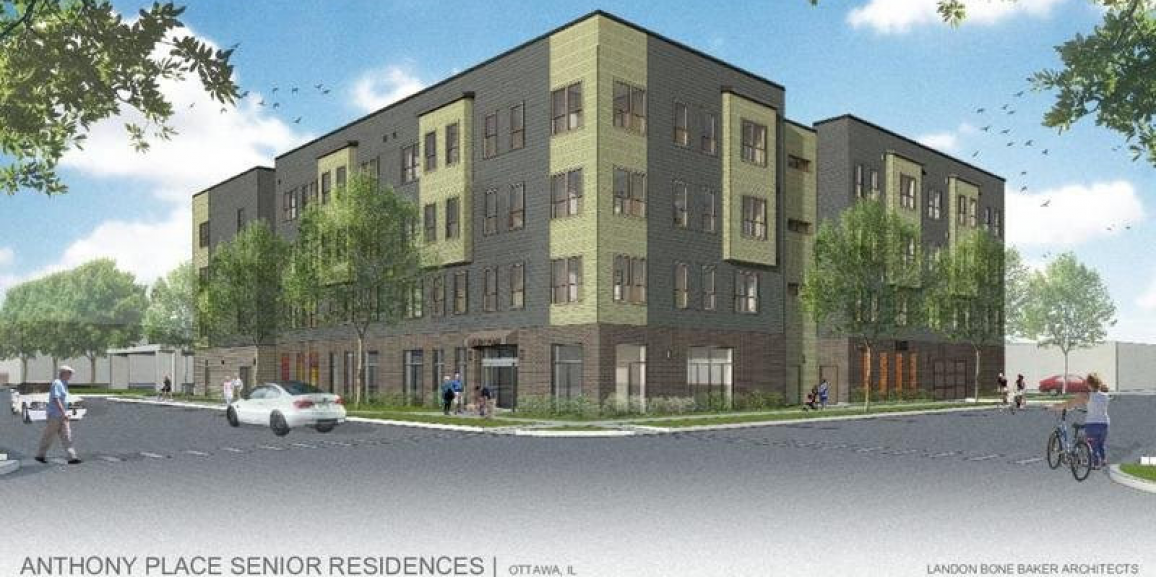 New $15M living facility breaks ground in Ottawa.
Construction commenced on Monday, May 22nd, at the project site: 727 Clinton Street.
Andrew Block, co-president of Crane Construction Company, said they're excited to bring one of their independent senior living facilities to the area.
The near 72,000 square foot, four-story facility will offer 42 one-bedroom units and 14 two-bedroom units with a mix of 49 indoor and outdoor parking lots. Block said it marks a $15 million investment in the community. The southeast portion of the lot will be reserved for a few drive-through lanes for the bank while the rest of the property will be utilized by the living facility and have an address of 727 Clinton St.
Block said they've been working with the city since 2015 and were sold on the idea after meeting with former Mayor Bob Eschbach and learning of the city's proposed future development and revitalization efforts.
The property will be restricted to those 55 years and older making 60% or less of the La Salle County median income.  The property will have 16 units supported by Project Based Vouchers and targeted to those 62 and older.   The development will also feature a fitness room with exercise bikes, rowing machines, free weights, yoga mats as well as a library/reading room and a community room kitchen can be reserved for large family gatherings.  Each unit will have a washer-dryer as well as a dishwasher, electric stove top oven, microwave and walk-in closet.
There will also be a game/TV room that could be used for events such as Super Bowl or Academy Awards parties. The facility's incentives are strengthened as well due to the close proximity to the many stores and restaurants within walking distance in downtown Ottawa .
The development will also lead to the creation of three full-time new jobs for management, maintenance and cleaning as well as part-time jobs involved in the construction of the facility. Their nearest similar facility is in Yorkville that opened a year ago and they've also broke ground on a new facility in St. Why is it called Anthony Place? Block said the name "Anthony Place" references the late father of one of the developers of the facilities, Ralph Grande.
Article Originally Written & Published by: Brent Bader
# # # #
About Lightengale Group
Lightengale Group (LGG) is an affordable housing real estate financial advisory firm offering services to experienced and non-experienced developers nationally. LGG provides strategic & financial planning for developers by tracking evolving government regulations and funding requirements. With over 100 years combined experience and more than 4,000 units completed, LGG is the industry's preferred advisory leader.