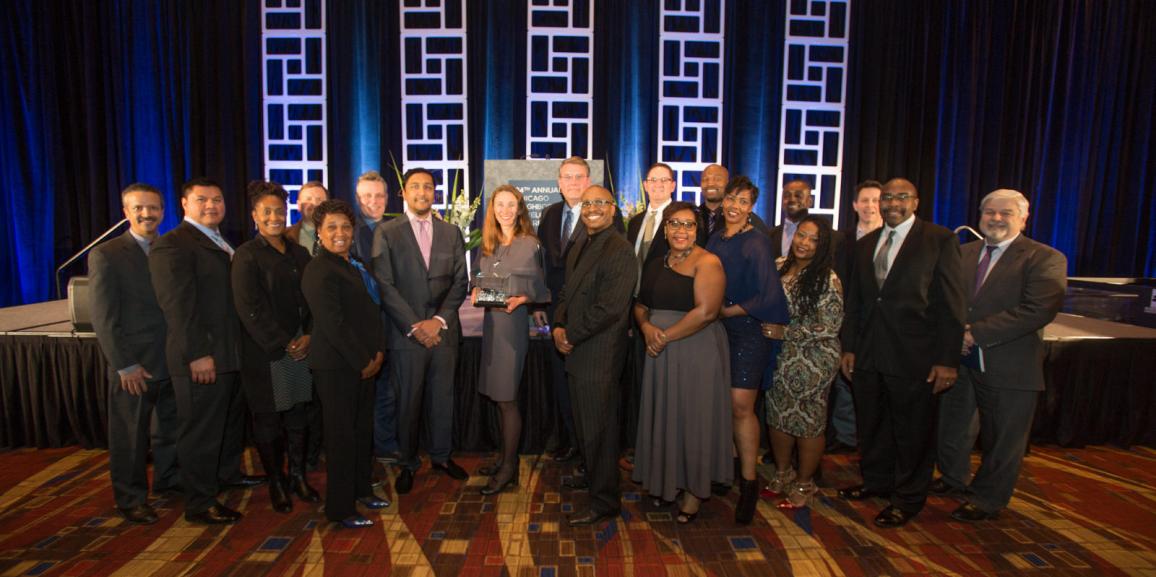 Rosenwald Courts wins The Outstanding For-Profit Neighborhood Real Estate Project Award at the 24th Annual Chicago Neighborhood Development Awards! Alderman Pat Dowell received the award on behalf of the development team that over 1,500 people attended. Alderman Dowell cited the importance of the project in helping to revitalize the larger Bronzeville community and her excitement about the new Rosenwald retail and office users expanding in the community. The ceremony took place on April 5th, 2018 to honor each of the winners. This award recognizes a for-profit developer for a specific real estate project that has contributed significantly to the enhancement of a community.
Rosenwald Courts began construction in January 2015 and was finalized with 239 residential units in the fall of 2016 and construction of the retail and office spaces is underway. This historic renovation worked to preserve the buildings and create a livable space for the residents of the Bronzeville community. This revitalization allowed for the space to not only be livable, but  allowed for 40,000 square feet to be utilized for retail shops and the growth of local businesses in the area. The project provided jobs during construction to over 300 residents in the area and the retail shops provided additional permanent positions in the community.
"The Chicago Neighborhood Development Awards has become one of the most publicly-recognized programs to celebrate innovation and best practices in community development," said Deborah E. Bennett, CNDA jury chair and senior program officer at the Polk Bros. Foundation. "CNDA is a time for us to gather and celebrate the positive change and accomplishments that transform neighborhoods across Chicago. Congratulations to this year's winners – I know you will continue to be an inspiration to the many individuals and organizations dedicated to community revitalization."
Let us all congratulate Rosenwald Courts Developer, a partnership of Iceberg Development Group, Roos Enterprises, Lightengale Group, and Evercore Companies on this wonderful award and achievement!
####
About Lightengale Group
Lightengale Group (LGG) is an affordable housing real estate financial advisory firm offering services to experienced and non-experienced developers nationally. LGG provides strategic & financial planning for developers by tracking evolving government regulations and funding requirements. With over 100 years combined experience and more than 4,000 units completed, LGG is the industry's preferred advisory leader.