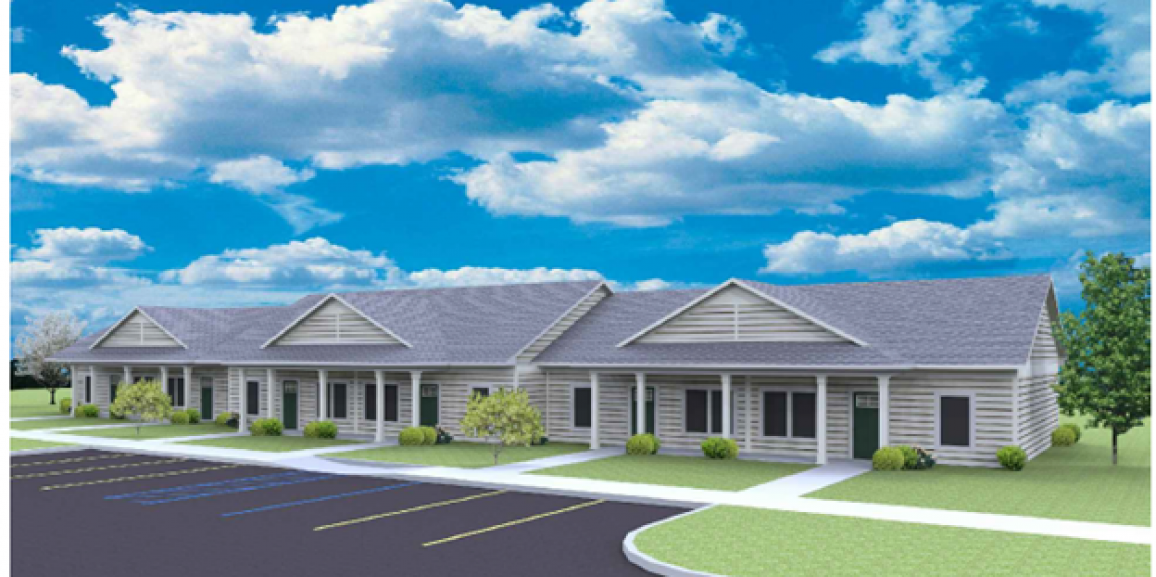 Diamond Senior Apartments of Breese financing closes!!
Congratulations are in order to both 3 Diamond Development (3DD) and Regional Housing Development (RHD)! On August 12th, Diamond Senior Apartments of Breese financing closed. The financing for this project comes from several sources including the Illinois Housing Development Authority (IHDA), Raymond James (RJ), and Associated Bank (AB).
This closing reflects approximately 20 months of predevelopment work. The predevelopment work involved all of the team members including ONYX Architecture, Ujamaa Construction, Hurst Roche, civil engineers, the project partners, the project lenders and everyone's legal teams and a variety of consultants. Lightengale Group (LGG) assisted with the financing strategy and overall financing structure.
The closing allows construction to start on this 40- unit building for independent older adults. The site is six acres and allows for a low-density development with plenty of green space. The units will be bright and modern, all appliances are included and there will be an on-site community building with a fitness room large gathering space and a reading room. The development will serve older adults, aged 55 and older. The incomes served will be 30% to 60% AMI and six of the units will serve the Illinois State Referral Network. The development consists of 30 two-bedroom units and 10 two-bedroom units. The project is located in Breese, which is an IHDA Opportunity Area.
Thank you to all those who were part of this development!
3 Diamond Development – developer and owner
Regional Housing Development – non-profit partner
IHDA – LIHTC allocating agency, construction and perm lender (HOME funds)
Associated Bank – construction lender
Raymond James Tax Credit Equity Funds – LIHTC syndicator
David Porush, Principal, 3 Diamond Development
Ben Klein, Principal, 3 Diamond Development
Ben Porush, Director of Operations, 3 Diamond Development
Meggann Bell, CEO/Director of Operations, Regional Housing Development
Brent Butcher, Senior Staff Counsel, IHDA
Steven Feenstra, Attorney, Tomtishen Aoun PLLC
Tanika King, Senior Paralegal, IHDA
Eddie Thiele, Associate, Katten Muchin Rosenman LLP
David Cohen, Partner, Katten Muchin Rosenman LLP
Ryan Holland,  Associate Director of Acquisitions, Raymond James Tax Credit Fund, Inc,
Bryan Schreiter, Vice President, Relationship Manager, Associated Bank
Kevin Kilbane,  Managing Director, Raymond James Tax Credit Fund, Inc,
Michele Bernhardt, Loan Administrator II, Associated Bank
Diane Larson, Senior Paralegal, Husch Blackwell
Allison Roddy, Senior Development Officer, IHDA
Paul Dombrowski, Partner, Husch Blackwell
Lukasz Lech, Client Services Coordinator, IHDA
"We have a great team in place and 3 Diamond Development is very excited to start construction on this development that will result in 40 modern, high-quality apartments for older adults living in and around Breese." – Ben Porush
####
About Lightengale Group
Lightengale Group (LGG) is an affordable housing real estate financial advisory firm offering services to experienced and non-experienced developers nationally. LGG provides strategic & financial planning for developers by tracking evolving government regulations and funding requirements. With over 100 years combined experience and more than 4,000 units completed, LGG is the industry's preferred advisory leader.