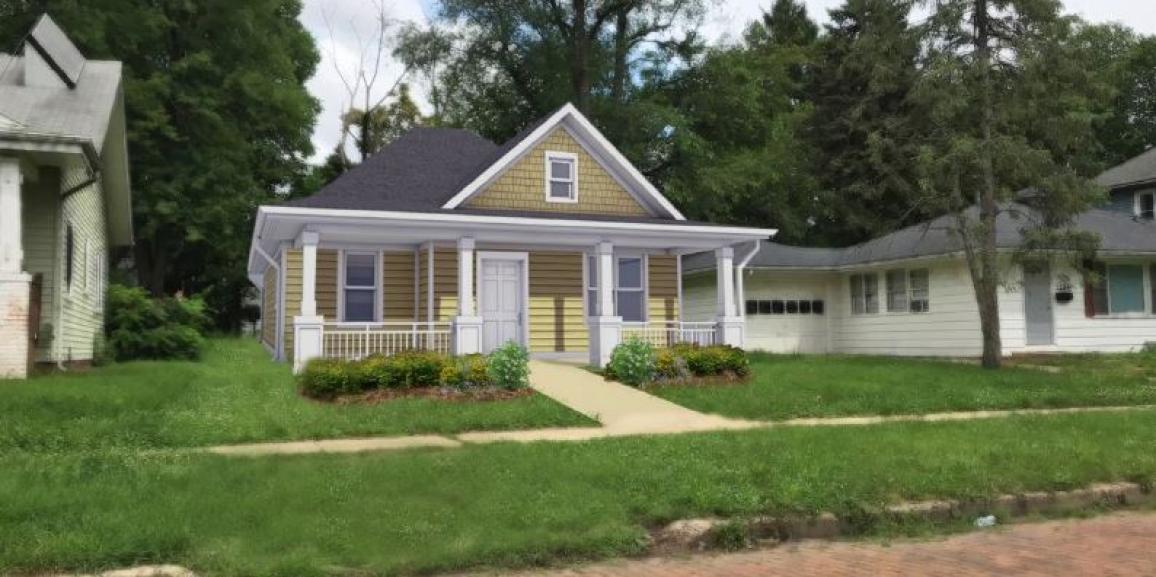 East Bluff Housing closes on financing to bring 30 new single family homes to the East Bluff neighborhood of Peoria
Congratulations are in order to Peoria Opportunities Foundation (POF)! On April 21st, East Bluff Housing closed on financing and is now ready to start construction!  The project is a scattered site project within the East Bluff Neighborhood in Peoria, Illinois. Lightengale Group (LGG) has been working with POF on the East Bluff project since 2017.  It is very exciting to have been able to help POF navigate through the ups and downs of affordable housing development and finance to get this project to the financing finish line.  The redevelopment of these 25 lots into high-quality affordable housing will be transformative for this neighborhood, and the benefits will be evident for decades to come.
The proposed development will create affordable rental housing for low-income families: 30 homes on 25 vacant lots with a mix of two and three bedroom single-family and duplex units. Building styles are based on existing neighborhood styles and City of Peoria Design requirements. All sites are within one mile of each other. All units will be built on infill sites throughout the East Bluff neighborhood and homes will help stitch together the fabric of the neighborhood.
The City of Peoria Community Development and Economic Planning departments and East Bluff neighborhood residents and community activists have collaborated to create a variety of revitalization plans and initiatives to improve both the physical look and feel of the neighborhood and the quality of life for its residents. The proposed project will directly help the revitalization efforts by providing modern, safe affordable housing. The City of Peoria has been a strong supporter of the project, providing HOME funds, TIF funds and transferring 16 lots to the project for $1.
Thank you to all those who were part of this development!
Peoria Opportunities Foundation – owner and developer
Morrissey Construction Company – contractor
Worn Jerabek Wiltse Architects – architect
Cinnaire – LIHTC investor
Town and Country Bank – construction lender
FHLB of Chicago – gap funder
City of Peoria – lender (HOME and TIF)
IHDA – lender and allocation of LIHTCs
US Department of Housing and Urban Development – provided RAD rental assistance for 16 units
Peoria Housing Authority – providing rental assistance for 21 units, 16 RAD units; 5 additional project-based vouchers
Peoria County – contributed 6 lots to the project for a nominal fee
"Lightengale Group was a great partner and did a superb consulting job on our scattered site development. This complex project had many challenges and Lightengale's knowledge, creativity and persistence got us to closing. Several times, when our project faced a serious challenge, Lightengale's top management collaborated to find a solution. Our project truly benefits from their years of experience." – Jane Genzel
####
About Lightengale Group
Lightengale Group (LGG) is an affordable housing real estate financial advisory firm offering services to experienced and non-experienced developers nationally. LGG provides strategic & financial planning for developers by tracking evolving government regulations and funding requirements. With over 100 years combined experience and more than 4,000 units completed, LGG is the industry's preferred advisory leader.