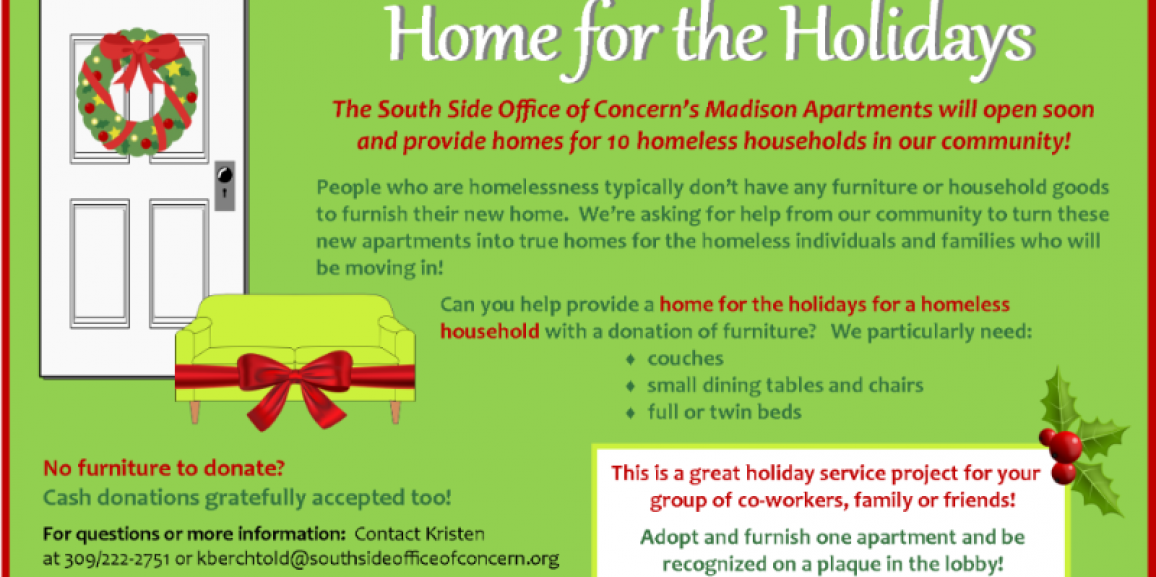 Join Lightengale Group in congratulating the South Side Office of Concern (SSOC) on the opening of the Madison Apartments! On November, 9th 2018 the SSOC will be holding a dedication ceremony and ribbon cutting to celebrate their newest housing development. The ceremony begins at 1:30 pm and will be the kick off the for National Hunger and Homelessness Awareness week, November 10th-18th. Following the dedication, there will be an open house from 2:00 pm – 3:00 pm to tour the brand new units.
The SSOC was founded in 1982 to provide assistance to residents of the neighborhood who needed food. The foundation provides affordable housing and services on site to assist residents in improving their lives. The SSOC already has 148 units available in 6 different housing developments with the Madison Apartments 10 units joining as their seventh development.
"These are critically needed apartments that will go a long way to help families and individuals stay healthy and housed," said IHDA Executive Director Audra Hamernik, "With affordable rents, access to community amenities and connections to the services provided by the South Side Office of Concern, these apartments will ensure every resident can reach their full potential, regardless of the challenges they face."
In April of this year, the SSOC received $2.8 million in Illinois Affordable Housing Trust Fund award from the Illinois Housing Development Authority (IHDA). The SSOC was able to rehabilitate the office building into units for those experiencing homelessness, are at risk, or have a disability. These residents will have access to public transportation and jobs with the assistance of the members of SSOC.
####
About Lightengale Group
Lightengale Group (LGG) is an affordable housing real estate financial advisory firm offering services to experienced and non-experienced developers nationally. LGG provides strategic & financial planning for developers by tracking evolving government regulations and funding requirements. With over 100 years combined experience and more than 4,000 units completed, LGG is the industry's preferred advisory leader.