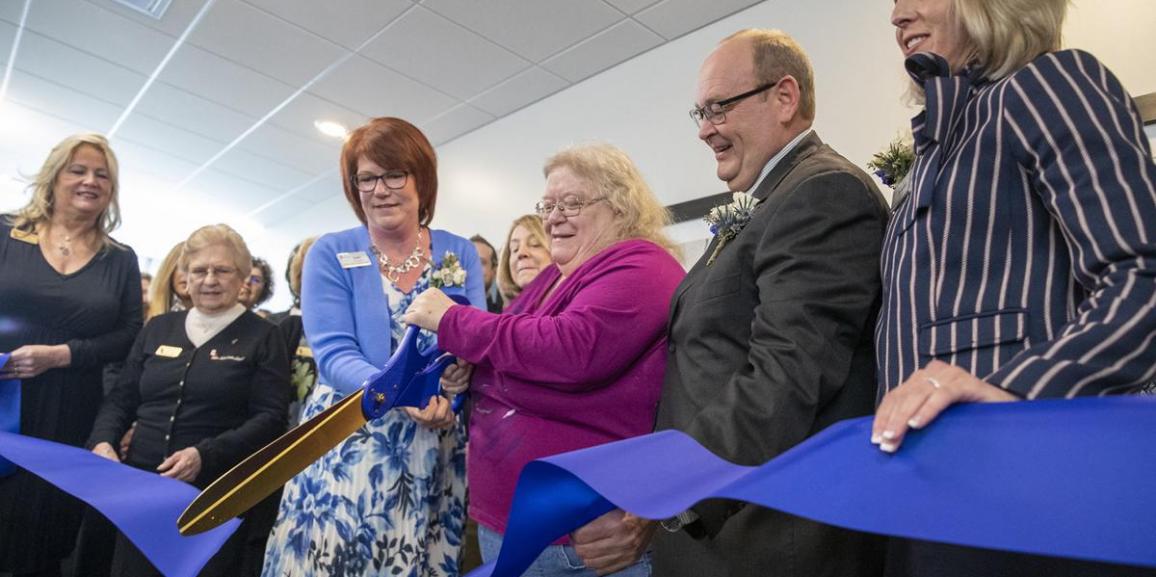 There was a standing-room-only crowd on hand Thursday morning for the grand opening of Immanuel's Graceview Courtyard, an affordable 55+ active living environment. Located at 1681 College Road, across College Road from the Council Bluffs campus of Iowa Western Community College, the new three-story Immanuel independent living facility features 28 one-bedroom and 28 two-bedroom apartments.
The 627-square-foot one-bedroom apartments feature full-sized appliances along with a washer and dryer. Two of the one-bedroom apartments are fully accessible. The 807-square-foot two-bedroom apartments offer one and a half baths, full-sized appliances as well as washers and dryers. All utilities are included in the monthly fee for both one- and two-bedroom apartments.
Other amenities include a community room that is perfect for hosting celebrations. The community room provides a welcoming space for enjoying a morning cup of coffee, connecting with new neighbors or entertaining family members. There is also a beautician's space on the building's first floor. The facility's wellness center is open 24 hours a day, seven days a week. The wellness center offers a selection of free weights, a recumbent bike, treadmill and NuStep. Graceview Courtyard's studio is located on the third floor, offering perfect light in a bright space to work on hobbies, crafts and quilting projects. The studio also offers residents an onsite computer and printer. The new independent living facility is located close to grocery stores, shopping, libraries and Iowa Western Community College's senior programming.
Immanuel owns and operates 14 retirement living communities in Omaha and Lincoln, Nebraska. In 2018, the organization acquired its first community in Iowa, The Shores in Pleasant Hill, just outside of Des Moines. Graceview Courtyard is the organization's second community in Iowa. Immanuel Pathways PACE, opened on North 16th Street in Council Bluffs in 2012, offers all-inclusive care for the elderly. The Council Bluffs facility served as the model for facilities that Immanuel opened in Des Moines as well as in Omaha.
Council Bluffs Mayor Matt Walsh was on hand for the grand opening and declared Feb. 27, 2020, Senior Connections Day, noting that Council Bluffs, like many other cities, needs affordable, high-quality senior housing. "When Immanuel does it, they do it right," Walsh said.
Eric Gurley, Immanuel president and CEO, said Immanuel is "no stranger to Council Bluffs," having opened the Immanuel Pathways PACE eight years ago, a facility that has served as "a model for progressive care for Immanuel." Although he did not mention a specific date for the start of construction, Gurley said Immanuel is planning a second building — a mirror of the Graceview Courtyard facility — on the property. "All people will grow old," Gurley said. "Immanuel's goal is for them to grow old with dignity, safety and wellness."
Karen Kovar, who will become the first resident of Graceview Courtyard when she moves from her Omaha apartment to the new Council Bluffs facility on Saturday, joined Immanuel officials for the official ribbon cutting. Kovar, who retired as an administrative assistant with Omaha Police five years ago when she turned 62, said she is looking forward to moving into her one-bedroom apartment on the third floor on Saturday. The former long-time Omaha city employee said she will enjoy being able to look out her apartment's windows at the area surrounding Graceview Courtyard. "I've lived in an apartment in Omaha for the last 10 years, and I'm really excited about moving into Graceview," Kovar said. Graceview Courtyard joins
Immanuel's existing Classic Courtyard offerings, providing an affordable 55+ active living environment for those who qualify through the Low Income Housing Tax Credit Program.
####
About Lightengale Group
Lightengale Group (LGG) is an affordable housing real estate financial advisory firm offering services to experienced and non-experienced developers nationally. LGG provides strategic & financial planning for developers by tracking evolving government regulations and funding requirements. With over 100 years combined experience and more than 4,000 units completed, LGG is the industry's preferred advisory leader.