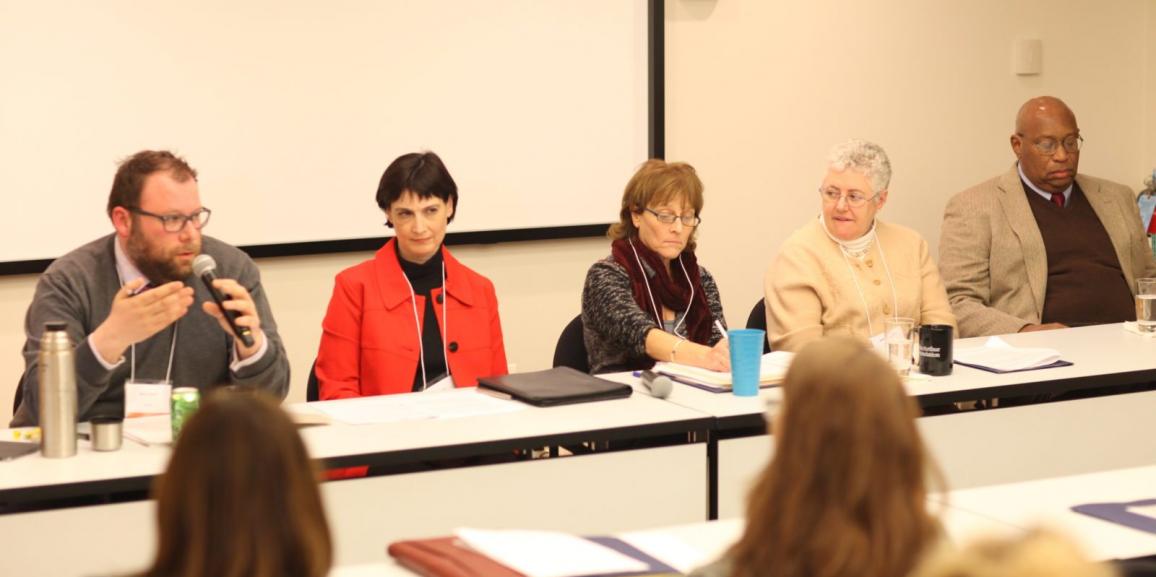 Larry Pusateri, prostate Vice President and Partner at Lightengale Group, moderated a discussion of Illinois affordable housing lenders about their current policies on locating affordable housing and selection criteria at Lightengale Group's Fair Housing Seminar.
Chicago Housing Authority (Lee Pratter, Sr. Director of Development), City of Chicago (Lawrence Grisham, Managing Deputy Commissioner), Cook County (Jane Hornstein, Deputy Director of Finance), Illinois Housing Development Authority (Alan Quick, Director of Strategic Planning and Research), and Metropolitan Planning Council (Robin Snyderman of BRiCK partners) shared their views during the lively exchange.
Impact of HUD's New Affordable Housing Policy Guidance
HUD provided guidance in July 2015 about Affirmatively Furthering Fair Housing (AFFH) as a requirement to obtain continued community development funding. While some have lauded HUD's promotion of affordable housing in high-opportunity areas, others have expressed concern that meeting AFFH requirements may take away redevelopment resources from struggling (lower income, high minority) areas. Kim Nevels earlier spoke that HUD had clarified that AFFH is a "Both And" approach, meaning that funders can provide a range of opportunities for communities to redevelop and that low income households stand to benefit from opportunities in high income areas.
Chicago Housing Authority Perspective
Ms. Pratter highlighted CHA's Opportunity Areas and how the CHA continues to look for new housing options in those areas (or near them). But, Ms. Pratter emphasized talking with the CHA about all potential deals to see if there is a potential fit for the CHA in a proposed development.
City of Chicago Perspective
Mr. Grisham stated the City's desire to put out a new funding round sometime in 2016 (that would prioritize LIHTC awards for the coming five years). The City will continue to invest in all 50 wards, both in areas of opportunity as well as areas in need of redevelopment. In the latter, the City will be prioritizing projects that further a redevelopment strategy where the housing can further the economic revitalization of a neighborhood. The City expects the same distribution of projects that are oriented toward seniors, families, and special needs populations. The City plans to update its QAP this year before initiating its funding round.
Cook County Perspective
Ms. Hornstein also discussed the importance of combining efforts with other governmental units, a focus in the last five years for Cook County. Cook County recently passed their Planning For Progress plan, which details how they want to combine their various resources to maximize the benefits for Cook County residents. The plan also details their areas of opportunity (p.29), where they hope to improve access to housing for lower income households. Ms. Hornstein explained that HUD has been active with Cook County in regard to AFFH.
IHDA Perspective
Mr. Quick reviewed IHDA's changes in their QAP these last two years – the QAP now provides incentive for new housing in Opportunity Areas AND has also recently added incentive for projects in communities with significant planning combined with active redevelopment, which include funded options for communities that are working to improve opportunities.
RHI Perspective
Ms. Snyderman shared some of the Metropolitan Planning Council's history of educating communities about the importance of workforce housing. MPC took many years to educate community leaders to accept affordable housing in their communities and regularly provided trainings to developers on successful strategies for approaching communities. This education is an on-going process. Through MPC, the Regional Housing Initiative (RHI) was born, which provides Project-Based Vouchers to family housing units throughout the region to narrow the divide between available jobs and qualified workers (and provides the benefits to the low income families of living in the higher income communities).
Wrap up: Affordable Housing Policy
In summary, all governmental authorities appreciate they have a small amount of resources to tackle large problems (economic development opportunities and affordable housing for lower income households). Each of them continues to fine tune their selection criteria to get the biggest bang out of their investment dollar; using their limited resources to further the revitalization of a community or to move lower income households to areas that already benefit from these offerings.
Lightengale Group thanks Ms. Pratter, Mr. Grisham, Ms. Hornstein, Mr. Quick, and Ms. Snyderman for sharing their time and perspectives with us.