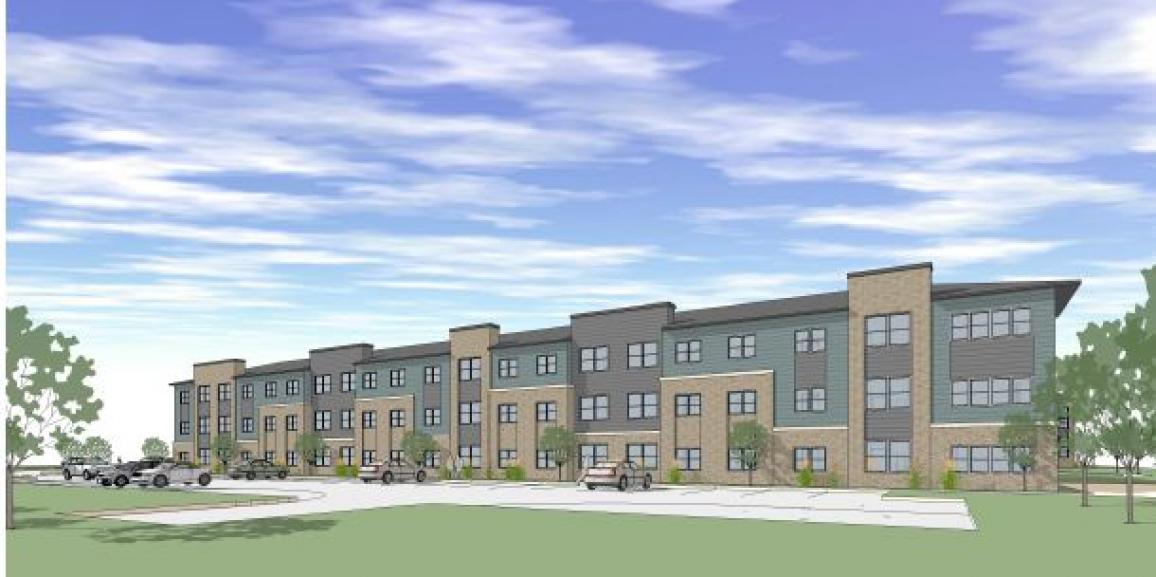 Congratulations are in order to Immanuel! On November 28th, 2018 the project closed on their housing development for seniors in Council Bluffs, Iowa. This community is located on the east bank of the Missouri River, across from Omaha Nebraska. This is Lightengale Group (LGG) first project with Immanuel.
The site is currently vacant land will be transformed into a new three-story affordable senior living community, with 56 apartments. The new construction development will consist of 28 one bedroom and 28 two bedroom apartments. This community will serve seniors with incomes up to 60% of the Average Median Income (AMI). The design allows for an abundance of common space; including a wellness center and activity room. The building's design includes the main lobby, community room, beauty salon and barber, and administrative office. The building will also offer storage lockers and a trash/recycling room. All these amenities will help enrich the lives of seniors, while offering them an affordable housing option. At least thirty-five percent (35%) of the building will be fully accessible for those with physical disabilities.
This 58,450 sq. ft. construction is nestled in the Council Bluffs community, within five miles of retail shopping, grocery stores, dining, and much more. This central location is very close to the Iowa West Community College campus which offers community members access to activities such as arts and crafts, computers, recreation, healthy cooking classes and more. It is also within four miles of the local YMCA, and Council Bluffs Library.
Immanuel is committed to developing affordable housing for seniors, and has been serving the Omaha area for more than 130 years. Immanuel is a member of Lutheran Services in America (LSA) and together they partner to change the lives of thousands of people in cities across the United States.
Thank you to all those who were part of this development:
Immanuel
Lightengale Group
City of Council Bluffs
Iowa Economic Development Authority
Iowa Finance Authority
MHEG
Horizon
Clock tower
"This project is a step towards our mission of serving seniors in need," said Eric Gurley, Immanuel president and CEO. "Affordable housing is in high demand for baby boomers and retirees throughout Nebraska and Iowa. Expanding our not-for-profit communities to Council Bluffs will offer area seniors affordable housing with the quality service and amenities Immanuel is known for."
# # # #
About Lightengale Group
Lightengale Group (LGG) is an affordable housing real estate financial advisory firm offering services to experienced and non-experienced developers nationally. LGG provides strategic & financial planning for developers by tracking evolving government regulations and funding requirements. With over 100 years combined experience and more than 4,000 units completed, LGG is the industry's preferred advisory leader.