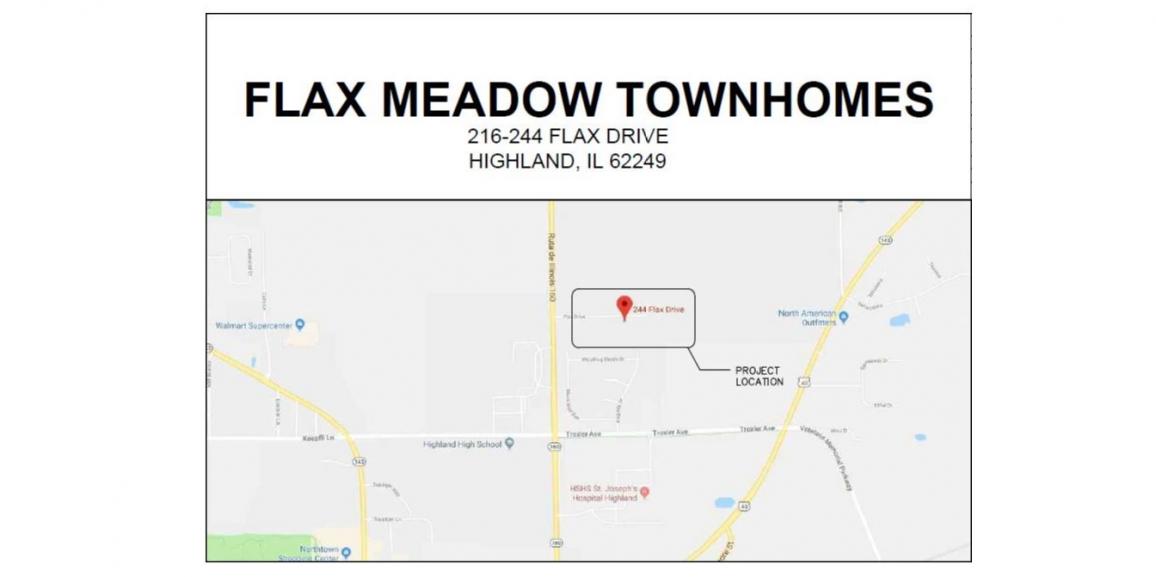 Loan Closing and Construction Start for Flax Meadow Townhomes
Congratulations are in order to both Cottage Hill Development (CHD) and Turnstone Development (TD)! On June 27th, Flax Meadow Townhomes closed on financing. National Equity Fund (NEF) provided the LIHTC equity, the Illinois Housing Development Authority (IHDA) provided a construction to perm loan, and Bank of America (BOA) provided a construction loan.  The Madison County Housing Authority (MCHA) also supported the project with nine project-based vouchers. This new development will be in Highland, Illinois. Flax Meadow Townhomes is the first project where Cottage Hill Development will participate in the ownership of a LIHTC development. Lightengale Group (LGG) has worked with CHD on two other projects where they served as turn-key developer, and helped provide guidance and direction for them to become part of ownership.
Flax meadows Townhomes Development will consist of 32 total units to be located in seven 4-plex buildings and one five-plex buildings, which also contains on-site management and NFP service offices.  The townhomes are a mix of one- and two-story units (four one-bedroom units, twelve two-bedroom units and sixteen three-bedroom units). Amenities include a community playground, washer and dryer in every unit, upgraded landscaping and secure bike parking. Providing affordable family units (between 30-60% AMI; 4 units are accessible; 1 sensory accessible and 28 adaptable units) in an IHDA opportunity area; project will include rental assistance with preference for veterans. Highland is a great place for family housing as the local schools are very highly rated.
Thank you to all those who were part of this development!
Owner – Flax Meadow LP
Developer – Cottage Hill Development
Co-developer – Turnstone Development Corp.
Contractor – North Arrow Construction LLC
Architect – North Arrow Architecture LLC
Property Manager – Regional Housing Development
Syndicator – National Equity Fund
Construction Lender – Bank of America
State Agency and Lender – IHDA
Acquisition Loan – Town and Country Bank
"NEF is thrilled to see another well planned affordable project begin to break ground in Illinois.  It was a pleasure working with the developer, North Arrow Partners, and their development consultant, Lightengale Group.  Their collective attention to detail and unwavering march to the finish line will resonate with this project as it continues to move forward." -Sean Hilliard, National Equity Fund
"We are pleased to work with LGG again on Flax Meadow. From the assembling the IHDA application through closing LGG has been organized, thorough and cooperative. LGG helped to keep us and our development partners on track to meet deadlines and make sure all of the details are addressed." -John Cronin, Cottage Hill Development
####
About Lightengale Group
Lightengale Group (LGG) is an affordable housing real estate financial advisory firm offering services to experienced and non-experienced developers nationally. LGG provides strategic & financial planning for developers by tracking evolving government regulations and funding requirements. With over 100 years combined experience and more than 4,000 units completed, LGG is the industry's preferred advisory leader.