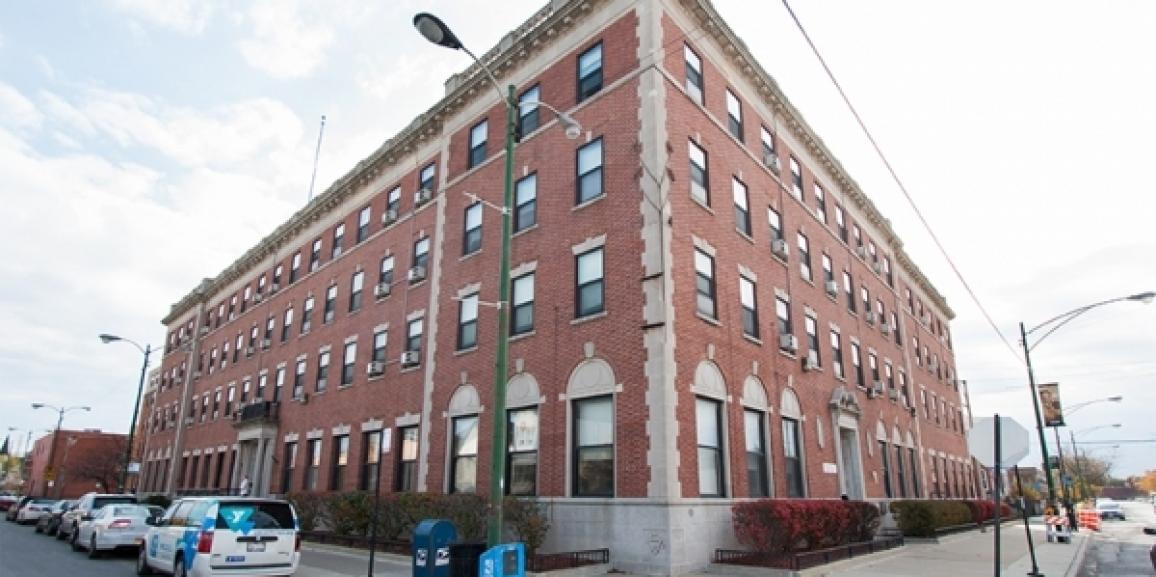 per Preservation of Affordable Housing – Chicago (POAH) Press Release:
POAH significantly extended its footprint in the Chicago area this spring with the acquisition of nearly 700 affordable rental apartments in the City and two suburbs, bringing to close to 1,800 the number of units it has preserved or created in the area since establishing a presence there in 2008.  These latest acquisitions also bring POAH's total portfolio to more than 11,000 affordable homes.
The larger acquisition includes 461 apartments in six building for seniors in properties previously owned by YMCA Foundation entities and managed by the YMCA of Metropolitan Chicago. The buildings are located in the South Chicago neighborhood of the city and in Harvey, IL, 20 miles south of the city. In addition to implementing modest renovations, POAH will partner with Claretian Associates, a nonprofit housing developer and community services provider based in South Chicago to provide direct services to tenants.
"We are pleased to build upon the YMCA's proud history of providing affordable housing for low-income seniors," said Bill Eager, Vice President, POAH Chicago. "With our considerable operations in Chicago and elsewhere in Illinois, these six facilities expand POAH's commitment to property redevelopment and reinvestment, infrastructure improvements, and resident services in addition to supports and investments in community institutions."
Earlier this month, POAH added four more affordable rental apartment buildings to its portfolio – in the Austin neighborhood of Chicago and the City of Elgin (Kane County) some 30 miles northwest of the city.
In Austin, POAH has purchased two buildings that provide 94 apartments for seniors and low-income families at 325 and 345 North Austin Street.  In Elgin, POAH purchased the 100-apartment Burnham Manor at 1350 Fleetwood Drive and the 27-unit Burnham Wing Schoolhouse Apartments at 260 Center Street.
All four buildings are well-landscaped and feature on-site laundry and parking as well as community rooms and other tenant amenities.  Over the next year, POAH plans to make improvements to heating and other mechanical systems, efficient plumbing and lighting and roofing as well as enhancing tenant services.
The acquisitions continue POAH's transformative work in and around the City in which the nonprofit has built and renovated mixed-income, mixed-use communities, created new levels of community collaboration and coordinated partner-driven development, bolstered by a $30 million HUD Choice Neighborhood Initiative grant in 2011 for its redevelopment of the former Grove Parc Plaza in the Woodlawn section.
That neighborhood revitalization included the creation of new, LEED certified buildings, commercial spaces and an 8,000 square foot community center offering free social service support for residents and employment/workforce development opportunities for the entire community. The revitalization also attracted the return of retail businesses including the construction of a 48,000-square-foot Jewel Osco grocery store and the move to a POAH building by Daley's Restaurant, the oldest restaurant in Chicago dating back to 1918.
 The YMCA Foundation properties that POAH acquired are:
South Chicago Elderly Housing (101 units), 3039 E. 91st Street, Chicago
South Suburban Elderly Housing (120 units), 178 E. 155th Street, Harvey, IL
Emil Jones Jr Senior Housing (60 units), 19 E. 110th Place, Chicago
Fred C Matthews III Senior Housing (60 units), 5040 S. Indiana Avenue, Chicago
Jesse Jackson Jr East Senior Housing (60 units), 166 W. 151st Street, Harvey, IL
Jesse Jackson Jr West Senior Housing (60 units), 174 W. 151st Street, Harvey, IL
The Austin and Elgin properties are:
325 and 345 North Austin Street, Chicago
The 100-apartment Burnham Manor at 1350 Fleetwood Drive, Elgin
The 27-unit Burnham Wing Schoolhouse Apartments at 260 Center Street, Elgin
Related News Articles:
Crain's Business: Boston based affordable housing nonprofit expands its Chicago footprint
Daily Herald: National nonprofit buys two affordable housing buildings in Elgin–
Chicago Tribune : Affordable housing group buys Burnham Manor, Schoolhouse apartment buildings in Elgin for $11.1M
# # # #
About Lightengale Group
Lightengale Group (LGG) is an affordable housing real estate financial advisory firm offering services to experienced and non-experienced developers nationally. LGG provides strategic & financial planning for developers by tracking evolving government regulations and funding requirements. With over 100 years combined experience and more than 4,000 units completed, LGG is the industry's preferred advisory leader.