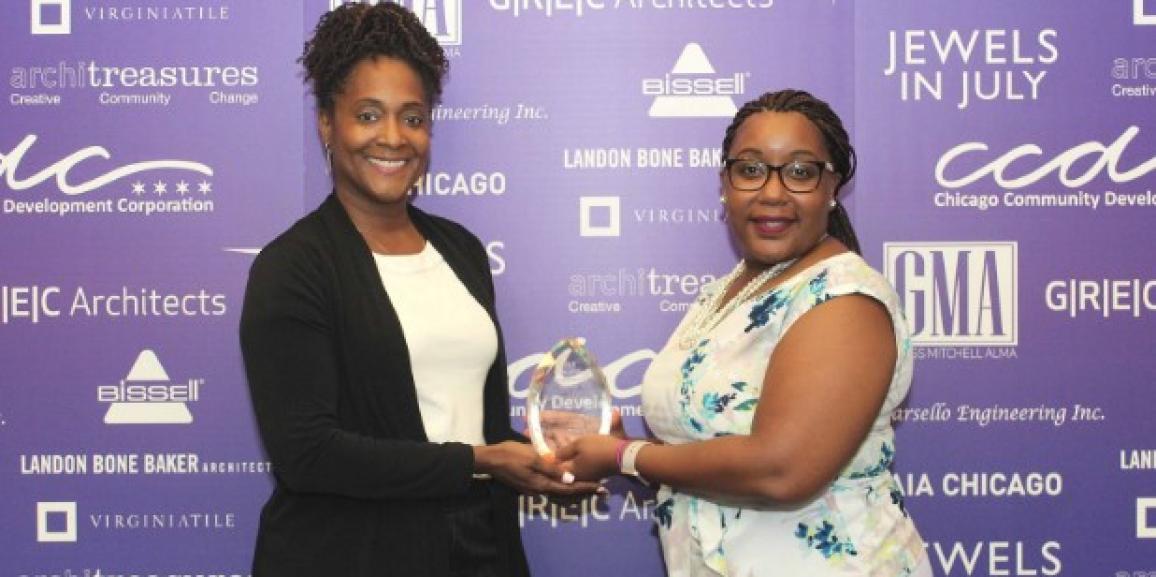 Congratulations are in order for the Rosenwald Court Apartments! On July 26, 2018, Rosenwald was awarded the "Gem of the Community Award" at the archi-treasures Jewels in July Celebration "Ultra Violet" for their "We Carry the Light" public art installation.
"We Carry The Light" was created to capture the past, present and future of Bronzeville through the eyes of their residents. The community was involved, helping to sculpt clay pieces used in the Sankofa Bird. This mythical bird has its feet planted forward while looking back signifying the past guiding a way to planning the future. Residents reflected on the history of their neighborhood; using symbols, words, and textures they infused each piece with hope, love, peace, and spirituality.
Rosenwald Courts, formerly known as the Michigan Boulevard Garden Apartments, began construction in 2015. This historic development was rehabilitated to create a livable space for the residents of this thriving community.
Located in Bronzeville, the "Black Metropolis", has provided a home to many famous African-Americans. Gwendolyn Brooks, Jessie Owens, Joe Lewis, Lorraine Hansbury, Marla Gibbs, Nat King Cole, Quincy Jones, and William L. Dawson to just name a few. These icons and many others yearned to create meaningful lives and were infused with an ancestral force of energy. This energy permeated the 1960s Civil Rights movement and still resonates within current movements for social justice and economic empowerment.
A big thank you to all those involved:
Mercy Housing Property Management

Rosenwald Courts Apartments, LP

Gallery Guichard

Archi-treasures

Local Artist  Carolyn Elaine and Damon Lamar Reed

Rosenwald Residents
Congratulations Rosenwald Courts!
####
About Lightengale Group
Lightengale Group (LGG) is an affordable housing real estate financial advisory firm offering services to experienced and non-experienced developers nationally. LGG provides strategic & financial planning for developers by tracking evolving government regulations and funding requirements. With over 100 years combined experience and more than 4,000 units completed, LGG is the industry's preferred advisory leader.