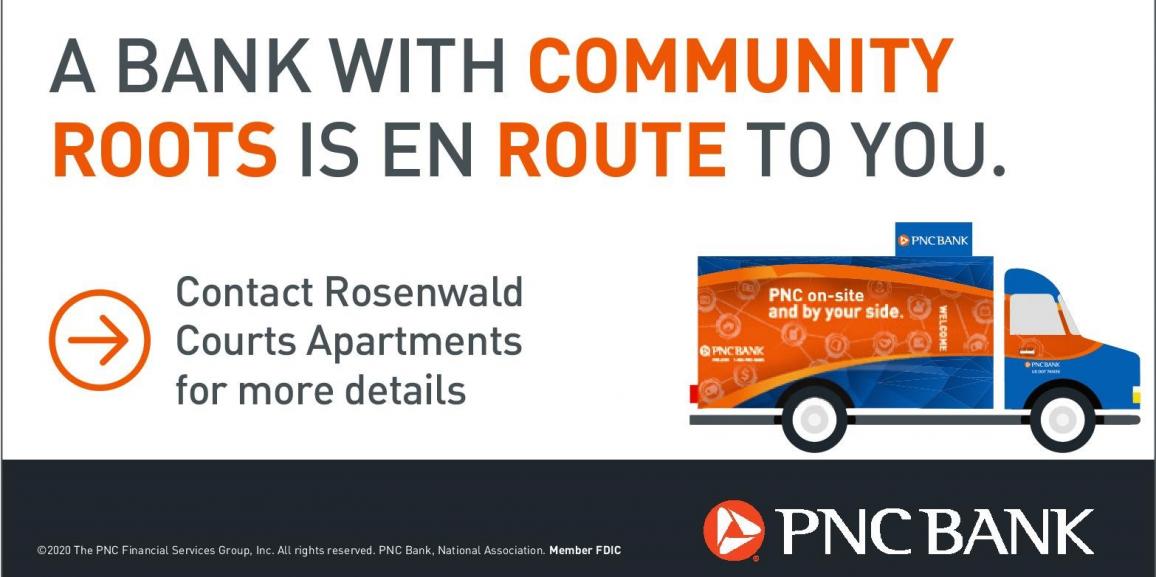 Community Roots now have Community Routes
Rosenwald Courts residence will now be able to take advantage of this innovative strategy to get banking needs right to the door of consumers. Unit provides broad banking services, financial education to residents in underserved Chicagoland neighboorhoods. PNC Mobile Banking Units will be available at Rosenwald Courts: 4642 S Michigan Ave. Chicago, IL 60653. Learn more about this program and its usr benefits by checking out the full press release on PNC's Media page.
REPOST: CHICAGO, Oct. 5, 2020 – "PNC Bank recently expanded its presence in the Chicagoland area and four surrounding counties with the debut of a new mobile banking unit. This 30-foot "branch on wheels" will help make banking easier and more accessible beyond the traditional brick-and-mortar bank branch.  The Chicagoland market is the first to launch the custom-designed mobile branch. The mobile banking unit allows customers or prospective customers to: meet with a personal banker; open a checking account; apply for a personal loan, credit card or mortgage; receive or replace a PNC debit card; conduct a variety of other banking needs; or receive digital customer assistance, including notary services. The unit includes a workstation for personal discussions and a self-service, deposit-taking ATM for convenient, contact-free transactions. 
Access to the branch will be by appointment only and limited to one individual or family at a time. In compliance with COVID-19 safety standards, PNC team members will be furnished with a supply of gloves, face masks and cleaning supplies. Employees will wipe down surfaces after each customer interaction and follow social distancing best practices to protect visitors and themselves. For customers hesitant to enter the unit, bankers have the option to assist them remotely through encrypted tablet technology. The mobile branch is expected to have a presence in Chicago through 2021. Initially created to support communities in crisis and branch renovations, the unit allows PNC to offer broad banking services in communities where they are needed the most." Read the full press release on PNC Media page.
####
About Lightengale Group
Lightengale Group (LGG) is an affordable housing real estate financial advisory firm offering services to experienced and non-experienced developers nationally. LGG provides strategic & financial planning for developers by tracking evolving government regulations and funding requirements. With over 100 years combined experience and more than 4,000 units completed, LGG is the industry's preferred advisory leader.