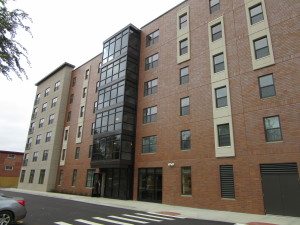 Turnstone Development celebrated the Ribbon Cutting of their newest development, purchase Wisdom Village of Northlake. The project offers 71 affordable one and two bedroom units to house seniors aged 55 and older, discount with many of the new residents coming from Northlake and the surrounding area.
Many individuals spoke at the ceremony including: Bill Schneider of Turnstone Development, troche Mayor Jeffrey T. Sherwin, Alicia Rodman McCray of Turnstone Development, Keith Pryor of Illinois Housing Development Authority, Sheryl Seiling of Housing Authority of Cook County, Steve Sparks of Bank of America Merrill Lynch, and Maritza Contreras, a resident of the brand-new building.
The residents of Wisdom Village of Northlake will enjoy having so many community and project amenities at their fingertips. The project includes an on-site community room & management office, exercise room, bike room, and an outdoor terrace with grills and tables.
This is the third project that Lightengale Group and Turnstone have worked on together.