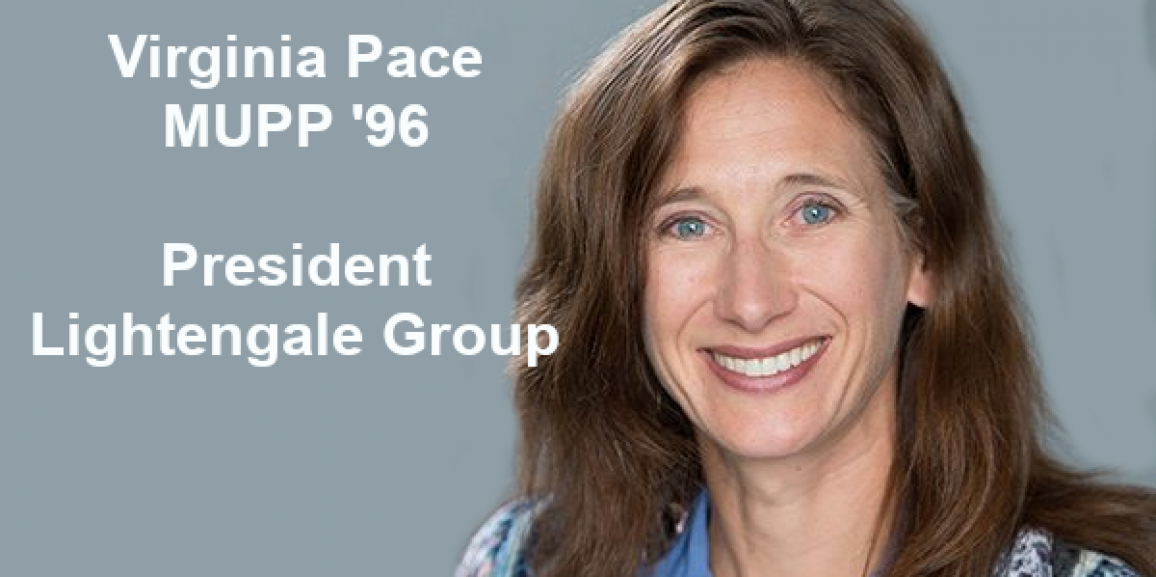 LGG MEDIA SPOTLIGHT
Full article — Per the CUPPA Facebook page: "Next in our Alumni Profile Series, meet MUPP Virginia Pace! Virginia Pace came to UIC after starting a career in affordable housing development, lured by a desire to get a bigger-picture view of the work she was already doing. After finishing an undergraduate degree at Vanderbilt in Nashville, TN, she worked for a year in affordable housing development. She was drawn to CUPPA thanks to the efforts of UIC Urban Planning Professor Emeritus Charles Orlebeke, who actively recruited out-of-state students to the program. Enrolling in the master's in urban planning and policy program was a significant life experience for Pace, for both advancing her career as well as introducing her to the city she loves.
"I moved to Chicago without ever having visited the city before. When I was looking for a place to live, I avoided all of the ads that referenced LSD – I didn't want to be in a drug house!" Pace remembers, it took her a year to learn the acronym for Lake Shore Drive. "I grew up in a rural Texas town, and while Nashville was a considerable city, at the time it wasn't a place where so much was accessible by foot, bike and public transportation. I just feel at home with that Midwestern sensibility Chicago has."
Within the MUPP program, Pace specialized in community development, building upon her interest in housing-related issues. During the program, she interned at Holsten Development, now one of the city's leading affordable housing developers. The internship at Holsten segued to her first job after graduating as she continued to help the company build affordable units in the city, an experience that would sharpen her focus even further on the value of this work.
"Housing is very tangible," Pace says. "It provides a direct benefit for people who benefit from that assistance."
As she continued at Holsten, Pace developed a comfort with the financing aspects of affordable housing, growing familiar with the intricacies of budgeting spreadsheets and government funding programs. That familiarity led her to strike out on her own, founding her own consulting firm, now known as Lightengale Group (LGG), in 1999.
Pace originally worked closely with her husband, a computer programmer, to build software that would automate aspects of development financing for other affordable housing developers. While the software did not sell as well as anticipated, it became LGG's proprietary technology to grow her company. Today, all LGG staff use the software to help underwrite clients' myriad projects. Clients range from small to mid-sized non-profit and for-profit affordable housing developers hoping to construct individual affordable housing projects. In addition to project underwriting, LGG understands the complex financial challenges clients may face and guides them through the technical processes.
"A lot of people get into affordable housing because they care about the social mission," Pace says. "Our consulting services guide clients through the real estate process of building housing as well as the technical financing challenges related to the various government funding programs."
While her career has been focused on the intricate challenges of getting specific affordable housing units built or rehabilitated, Pace says she most valued her experience in CUPPA for giving her a bigger-picture strategic understanding of urban planning.
"CUPPA was great at exposing me to the diversity of what urban planning means," Pace says. "I think it helped me to be a more holistic, strategic thinker. This comes in handy when putting together arguments on how to make something work well."
# # # #
About Lightengale Group
Lightengale Group (LGG) is an affordable housing real estate financial advisory firm offering services to experienced and non-experienced developers nationally. LGG provides strategic & financial planning for developers by tracking evolving government regulations and funding requirements. With over 100 years combined experience and more than 4,000 units completed, LGG is the industry's preferred advisory leader.