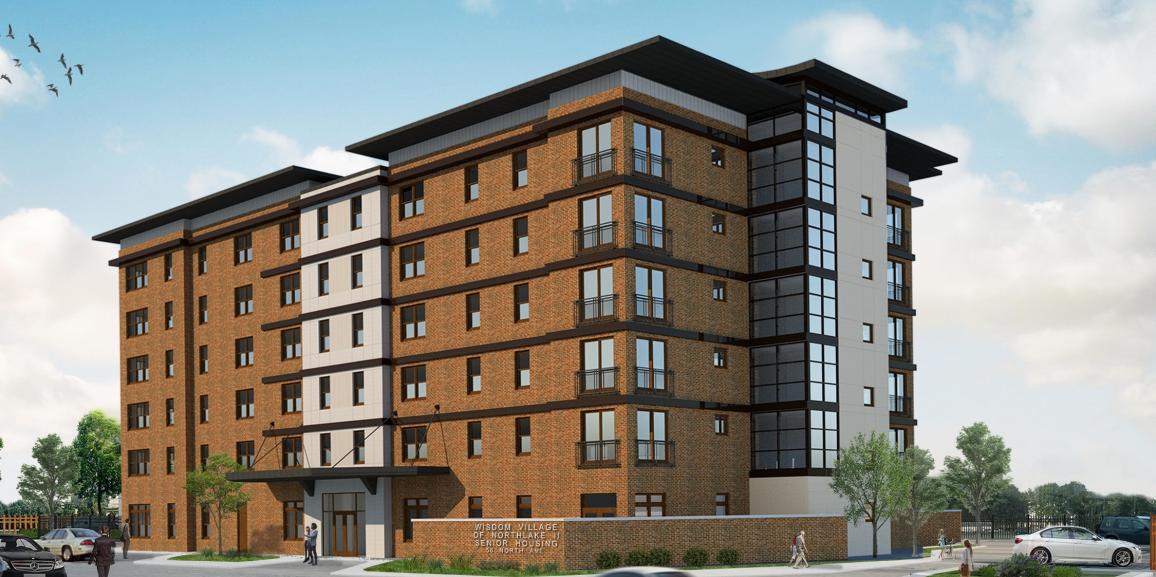 Congratulations are in order for the Turnstone Development Corporation! On August 31st the project closed on their housing development for seniors 62 and older in the Northlake community. This development is the second phase of the successful Wisdom Village of Northlake which opened its doors in 2017.
On September 4th, demolition began to transform the new development into the Wisdom Village of Northlake II. The new construction will replace the vacant commercial spaces with a 6 story elevator building comprised of 50 units in total. 42 of these units will be one-bedroom apartments varying in size from 646-707 sq. ft. 8 will be two-bedroom units ranging in size from 955-965 sq. ft. The building will also provide 43 parking spaces for their residents.
This 53,778 sq. ft. construction is located at 56 E North Avenue in Northlake, IL. This central location will allow future residents to be close to retail shopping, grocery stores, pharmacies, banks and much more. It is also located close to PACE bus lines for convenient transportation to the surrounding area.
Turnstone Development is committed to developing affordable housing in suburban Cook County.  Since 1998, Turnstone has developed 1,300 units for low-income families and seniors.
Thank you to all those who were part of this development!
Turnstone Development Corporation
Illinois Housing Development Authority
Bank of America
Raymond James
City of Northlake
ComEd Energy
Corporation for Supportive Housing
"Lightengale Group was responsive and detailed throughout the application and closing process; we could not have done it without them. Knowing how many parties are involved in a closing of this magnitude, LGG was able to navigate through the layers of red-tape and get us to the closing and ultimate ground-breaking. Their knowledge of the government regulations behind a LIHTC deal has made the process much easier to navigate."  Bill Schneider, Executive Director of Turnstone Development Corporation
####
About Lightengale Group
Lightengale Group (LGG) is an affordable housing real estate financial advisory firm offering services to experienced and non-experienced developers nationally. LGG provides strategic & financial planning for developers by tracking evolving government regulations and funding requirements. With over 100 years combined experience and more than 4,000 units completed, LGG is the industry's preferred advisory leader.