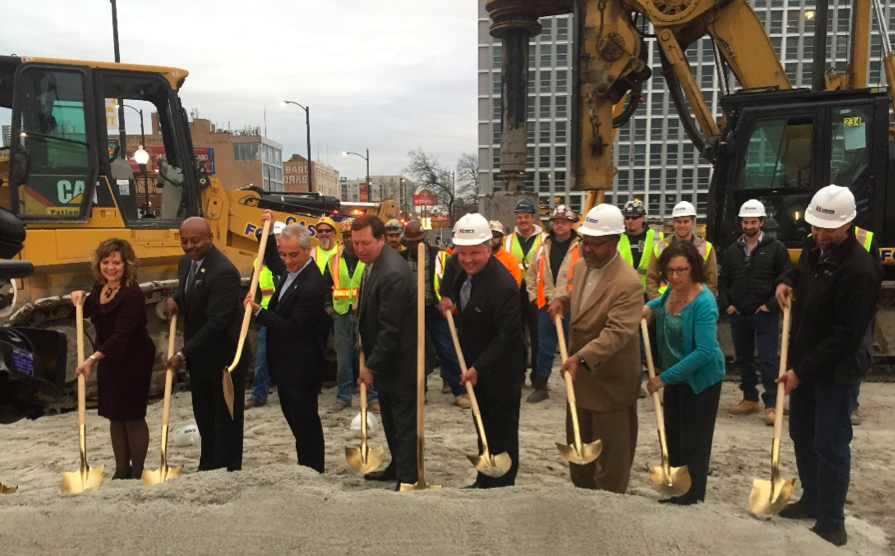 From left: Audra Hamernik, Executive Director of IHDA, Eugene Jones, Executive Director of the Chicago Housing Authority, Rahm Emanuel, Mayor of Chicago, 49th Ward Alderman Joe Moore, Rob Ferrino, CEO of Madison Construction, Larry Huggins, CEO of Riteway Construction, Sandi Price, Executive Director, Rogers Park Business Alliance, and Kris VanderMeer, Senior Project Manager at Madison Construction
The mixed-use transit oriented development known as "The Concord at Sheridan" will consist of a neighborhood Target store with six stories of housing above. The 111 residential units are a mix of one- and two-bedroom units, affordable housing and market rate. Located across from Loyola's main campus, these apartments provide beautiful new housing for one of the most diverse neighborhoods in the nation. The development includes the replacement of the residential community center for the Caroline Hedger Building, located just south of the Concord.
The Concord is just a block from the Loyola Red-Line El stop and the building includes 1:1 bike parking as well as underground parking for Target customers, Hedger and Concord residential residents. In addition, Concord will have many residential amenities, including a fitness room, game room, outdoor amenity deck, and community room with kitchen.
At the groundbreaking on November 28th , Mayor Emanuel praised the CHA's partnership with the team enabling the transformation of the parking lot into a true community, linking residents, retail, and transportation. The development was spearheaded by Three Corners Development and sister agency Madison Construction Company, which completed the rehabilitation of the Caroline Hedger building to the south. The residential development team also included Iceberg Development, Lightengale Group, and Cubit Development Group.
The Concord will open in early spring 2019.
Commercial and Residential financing was provided by the Chicago Housing Authority, Citibank, Illinois Housing Development Authority, City of Chicago, Credit Capital/ The Richman Group, Clocktower Tax Credits, and The Burton Foundation. Lightengale Group was responsible to coordinate the residential funding for the transaction which included tax exempt bonds, Risk Share, soft debt from IHDA, CHA, and the City of Chicago, and both LIHTCs and Donation Tax Credits.
About Lightengale Group
Lightengale Group (LGG) is an affordable housing real estate financial advisory firm offering services to experienced and non-experienced developers nationally. LGG provides strategic & financial planning for developers to complete successful affordable housing deals. With over 75 years of combined experience and more than 4,000 units completed, LGG is the industry's preferred advisory leader.