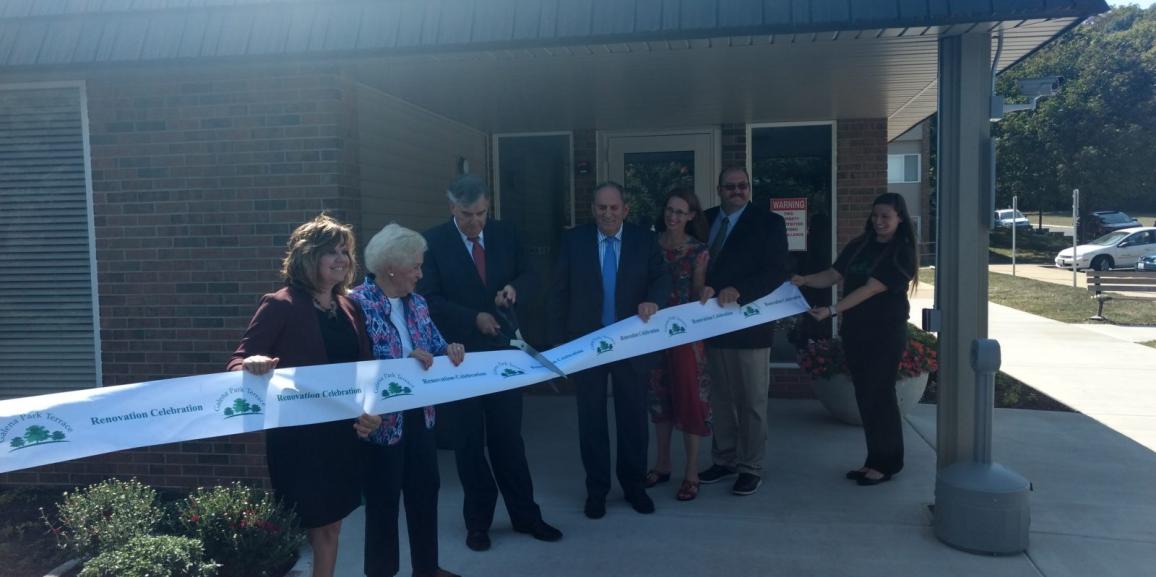 Lightengale Group congratulates Galena Park Terrace Board of Directors and Cottingham Property Management Company for completing the successful renovation of Galena Park Terrace. The reopening celebration included a barbeque for residents, lenders and professionals who worked on the transaction along with local singing talent. Audra Hamernik, IHDA's Executive Director talked with several of the residents and highlighted the success of the LIHTC program in preserving affordable housing throughout the state.  At the rededication ceremony Virginia Pace, Lightengale Group President, stated that the Galena Park Terrace board of directors and Robert Cottingham Property Management had a dual commitment to the comfort and well being of the tenants plus wanting to make improvements needed to preserve and improve the buildings for another 40 years.
Many current residents were in attendance at the grand opening festivities, enjoying the food and live music at the newly improved community center. Residents can now walk through the grounds with updated landscaping, new pergolas and BBQ grills.
The renovations completed by Zobrist Construction include upgrading and replacing major systems, in-unit amenities to ensure resident comfort, inclusion of universal design architectural features, and combining lower level studios to create larger one-bedroom units in keeping with the market demand.
Other team members critical to the success of this redevelopment include Bill Wombacher and the full Galena Park Terrace board of directors, PCM+D Architects, Rick Joseph who expertly handled the Section 42 and real estate legal work, Cinnaire, IHDA, and Draper & Kramer. All of us at Lightengale are honored to be amongst numerous partners that made this development a possibility.
###
About Lightengale Group
Lightengale Group (LGG) is an affordable housing real estate financial advisory firm offering services to experienced and non-experienced developers nationally. LGG provides strategic & financial planning for developers by tracking evolving government regulations and funding requirements. With over 100 years of combined experience and more than 4,000 units completed, LGG is the industry's preferred advisory leader.