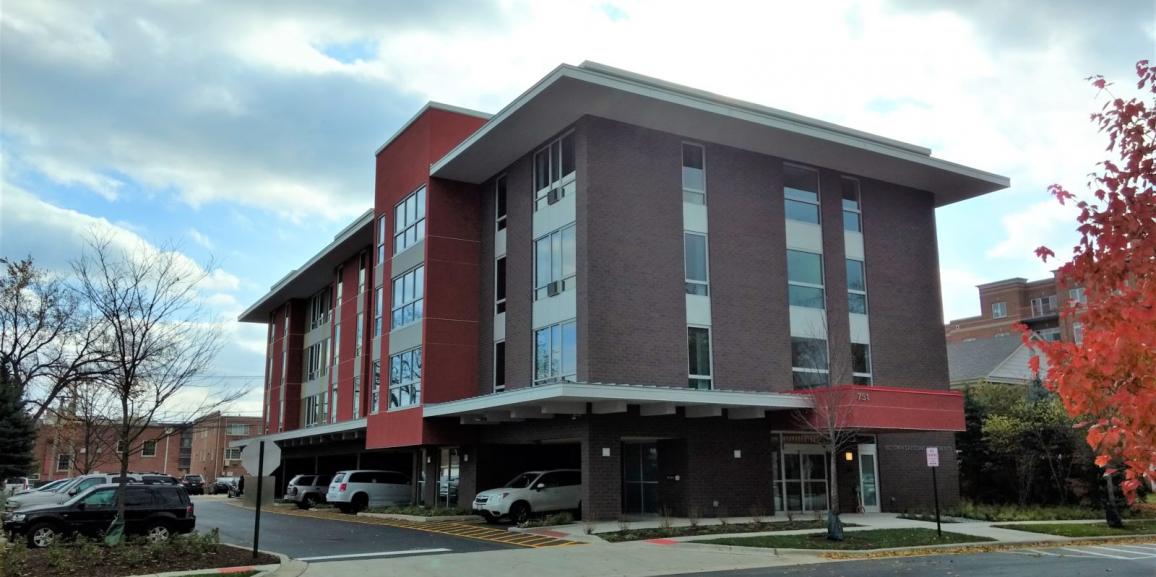 Residents have been excitedly waiting for this development as Over The Rainbow (OTR) has completed Midtown Crossing in downtown Des Plaines. Under Weese Langley Weese's direction, the design provides maximum accessibility for people who require wheelchairs for mobility.
This development was created with features to assist those who are mobility impaired to be able to move around their homes with ease. Each apartment was created with raised ovens, kitchen pass-throughs to easily prepare and move food through the area, and roll in showers. The building is also equipped with 2 elevators for residents.
The apartment building was built in the desirable downtown area and is just a mere 2 blocks from the Metra and PACE buses. In addition to being a transit-oriented facility, it is also near schools, shopping, and the library — all of which allow the residents to fully enjoy their community.
This was OTR's ninth development and second with Lightengale Group. Eric Huffman, OTR's Executive Director stated,
"We love working with Lightengale. We really appreciate all of the up-front work they put into making sure we are pursuing and closing good deals. They have always provided us with good advice, and we know they will be there when we need them."
Virginia Pace, LGG's President remarked,
"We greatly enjoy working with Eric and Les at Over The Rainbow. They focus on building developments in thriving communities and providing so many enhancements to maximize the residents' independence."
LGG was the Financial Advisor on the project, coordinating the tax credits, debt, grants, equity and project-based vouchers for the development.
For highlights on the design of the property, click below:
Video of property
Celebration video (use password "otr" to download)
####
About Lightengale Group
Lightengale Group (LGG) is an affordable housing real estate financial advisory firm offering services to experienced and non-experienced developers nationally. LGG provides strategic & financial planning for developers by tracking evolving government regulations and funding requirements. With over 100 years combined experience and more than 4,000 units completed, LGG is the industry's preferred advisory leader.